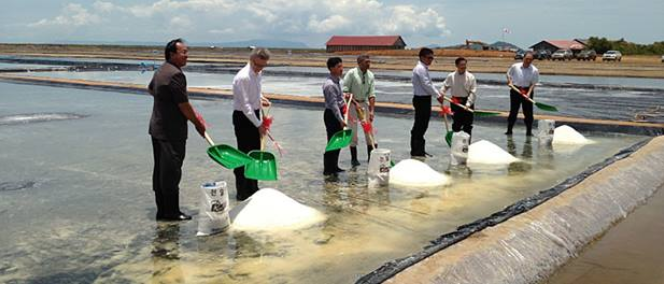 Royal HaskoningDHV was responsible for the Environmental and Social Impact Assessment (ESIA) for the new solar salt farm in Kampot, Cambodia that was opened 27 April 2013. The assessment ensures socio-economic development goes hand in hand with social enhancement of the surrounding communities.
The overall aim was to identify and manage environmental and social issues related to the construction and operation of the proposed salt farm. The farm, located in the coastal zone of Kampot, will produce high quality food-grade salt for export.
Royal HaskoningDHV carried out the ESIA on behalf of Asia Salt (Cambodia) Co. Ltd., and in partnership with Green Goal Cambodia.
BENEFITS FOR THE LOCAL POPULATION
According to Royal HaskoningDHV's environmental and social expert Margriet Hartman: "We worked closely with local communities and salt farm workers and listened to their suggestions to enhance the benefits of the project for the people and the environment. When possible, we took these into account in the design and operational procedures of the solar salt farm. The result is that real benefits for the local population in terms of working conditions, salaries and health and safety issues have been identified and incorporated in the scheme."
HEALTH AND SAFETY
When fully operational the farm will employ around 350 workers per day during the production season. The working conditions have been detailed to serve the needs of the men and women workers in terms of working hours and benefits. Further, special attention is given to the migrant workers, who perform seasonal labour in the area. Health & safety programmes have been developed to create safe working conditions during construction and operation.

MANGROVE HABITAT
The ecologically valuable mangrove areas adjacent to the salt farm will be protected and will have the opportunity to redevelop in a full mangrove ecosystem, serving as a nursery for marine aquatic life and as coastal protection.
The project involves the immediate development of 120 ha of salt farm and related facilities, with scope for future expansion to 400 ha. Investment for the initial development is estimated at US$ 2.9m. In its full capacity the salt farm will add nearly 10% to Cambodia's salt production capabilities, providing valuable export for the future.
The ESIA has led to the development of a project that is sustainable in a social, environmental and economic sense, which is in line with policy of the investors.
CONTACT US
Suzette Schreuder
Global Press Officer
Amersfoort, NL
+31 88 348 20 26
+31 6 29 09 82 38
suzette.schreuder@rhdhv.com