Pilot Sand Engine Dutch coast
The Sand Engine provides long term coastal maintenance (over 20 years), for which a very large volume of sand is supplied (over 20 million m3) and nourishment is combined with the promotion of recreation and nature.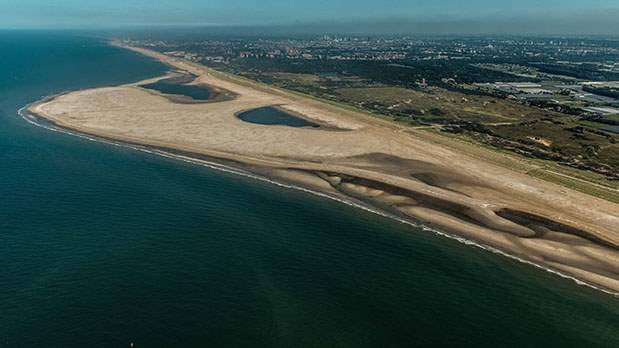 Image: Sand Engine. Copyright: Joop van Houdt /Rijkswaterstaat
THE CHALLENGE
Half of the Dutch coastline is protected by natural dunes and the densely populated Randstad area almost entirely. To preserve the dunes and coastline periodically sand is supplied. Expectations are that the need for nourishment will increase due to climate change. Periodic nourishment leads to destruction and disturbance of the soil life. With the increase of nourishments, larger surfaces will be disturbed and destroyed and the time for recovery between replenishments will also become shorter. Periodic nourishment over greater lengths of coast and in smaller quantities is relatively expensive.
The nourishment of larger amounts of sand is cheaper and causes fewer disturbances to the soil environment. Larger nourishments also provide opportunities to actively shape the coast for recreation and nature. A large nourishment therefore provides perspective on cost savings, less disturbance of the soil life and added value for recreation and nature. The Dutch National Innovation Platform has therefore proposed to explore this concept further and to this end deploy the pilot Zandmotor (Sand Engine) along the Dutch coast. This is picked up by Rijkswaterstaat and the province of South Holland.
A Sand Engine is a nourishment with a volume large enough to provide the coast with sufficient sand for a long time. This large volume is placed in a location from which the sand can be distributed by coastal processes over a larger part of the coast. The construction is simple and cheap due to its size and the fact that a lot of sand is supplied in a single location. Across the world 'feeder berms' and 'feeder beaches' are already in use in several locations. The Sand Engine as constructed for the Delfland coast is unique. Long term coastal maintenance is anticipated (over 20 years), a very large volume is supplied (over 20 million m3) and nourishment is combined with the promotion of recreation and nature.
Importantly an extensive monitoring program is started to gain more knowledge about coastal processes, natural dune formation, effects on soil life and the way the Sand Engine is experienced and used by people. Royal HaskoningDHV was involved in developing guidelines for the design of a Sand Engine as part of the Building with Nature innovation program. Furthermore, Royal HaskoningDHV made the final design and environmental impact assessment (EIA), the social cost-benefit analysis (SCBA) and a program to monitor and manage the Sand Engine.
THE RESULT: FROM SAND ENGINE TO SAND STRATEGY
The Sand Engine was built in 2011 and an extensive research program is currently in place. Royal HaskoningDHV is indirectly involved in this. E.g. we made a global study into the possible use of a Sand Engine as a form of coastal management in other countries. In the UK Royal HaskoningDHV is looking into a few locations where a Sand Engine might be the solution. In these studies and projects the scope has been further expanded. The Sand Engine is a form of coastal maintenance and a building block in a 'toolbox' that is focused on integrated coastal developments with a strong focus on sand. In addition to various forms of coastal maintenance with sand it's also about coastal protection and coastal development.
CONTACT US
Simeon Moons
Marine ecologist
Amsterdam, NL
+31 88 348 36 69
Simeon.moons@rhdhv.com