Salt marsh development Marconi, Delfzijl
COASTAL CHALLENGES AT DELFZIJL
The municipality of Delfzijl faces several environmental issues. Sea level rise combined with subsidence and the declining ecological state through the rising sediment concentrations in the Ems-Dollard estuary. To counter these problems, the municipality initiated the Delfzijl Marconi project where recreational facilities are combined with nature development to restore the maritime character.
SALT MARSH DEVELOPMENT DELFZIJL
Royal HaskoningDHV contributed to the coastal development at Delfzijl together with EcoShape partners Wageningen Marine Research, Arcadis and Deltares and financed by the Waddenfonds. In the coastal area, nature, economy (harbour and chemical industry) and coastal protection are combined. The project is part of the Ems-Dollard 2050 programme and consists out of several projects and initiates to recover the unique nature in this area. The complete design consists out of a man-made beach, a wetland park area and a natural salt marsh area. The foreshore areas increase the safety level of the coasts whilst also providing space for recreation and nature development and are therefore an example of a Nature Based Solution.
KNOWLEDGE DEVELOPMENT OF SALT MARSH GROWTH
The salt marshes are used for a pilot to gain knowledge and experience by stimulating salt marsh growth in a natural way with sand and mud from the area. Salt marshes are an attractive habitat for flora and fauna, and increase the safety level of the coasts by their wave reducing character. Through catching sediment, salt marshes oppose the effect from sea level rise and subsidence, improve the water quality and capture CO2. Moreover, salt marshes make the coast more attractive. Natural salt marshes disappear more often by human influence. The pilot gains knowledge about salt marsh development to recover these foreshore areas.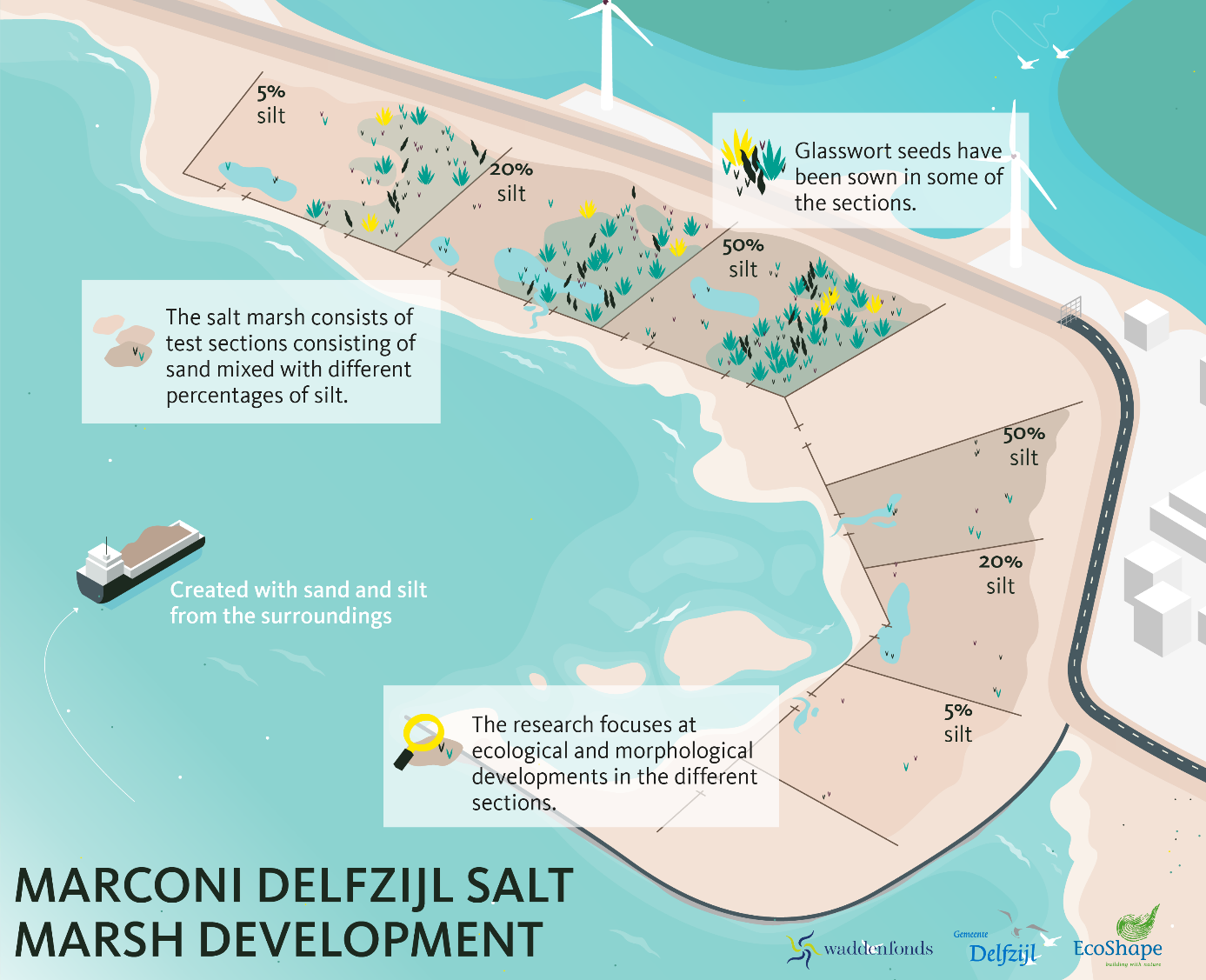 GLOBAL APPLICATION
The problem in the Ems-Dollard is not unique. Worldwide coastal areas are facing the effects of sea level rise and subsidence. In Delfzijl the knowledge is development to develop and enhance salt marshes that serve as a natural coastal protection solution. The gained expertise can eventually be applied to other harbour and delta areas to develop foreshore areas with the use of local dredged sediment.
CONTACT US
Petra Dankers
Senior Project Leader & Advisor Morphology and Eco-engineering
Nijmegen, NL
+31 88 348 68 69
+31 6 11 91 41 63
petra.dankers@rhdhv.com